Podiatrists consider the first year of a child's life to be the most important in their development. The feet of a young child grow rapidly during the first year, reaching almost half of their adult foot size! This coupled with the fact that the human foot is one of the most complicated parts of the body- it has 26 bones with many ligaments, muscles, blood vesels and nerves- means a child's foot needs special attention!
Children's feet come with specific concerns and cautions because they are soft and pliable and abnormal pressure on any part of the foot can cause deformities. Their footcare is influenced by the fact that they are still growing and developing, and by their high activity level. Neglecting foot health invites problems in other parts of a child's body, such as the legs and back. There can also be undesirable personality effects. The youngster with troublesome feet walks awkwardly and usually has poor general posture. As a result, the growing child may become shy, introverted, and avoid athletics and social functions. Consultation between the podiatrist, pediatrician, and other medical specialists helps to resolve these related problems. Because of the high incidence of foot defects among children the American Podiatric Medical Association recommends foot health examinations for school children on a regular basis.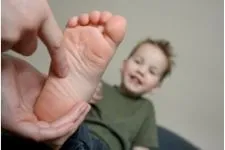 Fortunately, podiatrists are trained in the footcare needs of patients of all ages, including infants, toddlers, and children. Making an appointment with your podiatrist at the first sign of injury, pain, or abnormality is the best way to ensure that your child will find relief from any foot or ankle conditions they may experience.
Be on the lookout for a few signs of pain, injury or abnormality in your children as they often ignore or endure these problems themselves. Limping is an obvious sign of injury to the foot or ankle. Any abnormal gait like walking on the toes, in-toeing, out-toeing, bow legs, or knock knees can be a sign of a misalignment of the feet or ankles, or may be the result of a trauma or injury (often children will alter their gait when injured or having a problem to avoid the pain associated with their normal gait). Also, when your children complain of foot pain, take their concerns seriously, especially if their pain is chronic. This can point to an existing condition like plantar fasciitis or Achilles' tendonitis. Foot and ankle pain is not the normal condition for your feet, and it serves as our bodies' way of telling us there is a problem.
Tips to help foot development occur normally in infants:
Provide exercise; lying uncovered provides kicking and other related motions which prepare the feet for weight bearing.
Change the baby's position several times a day.
Look at your baby's feet often. If you notice something that does not look normal to you, ask your family physician or podiatrist.
Cover the baby's feet loosely; tight covers restrict movement.