Shockwave Therapy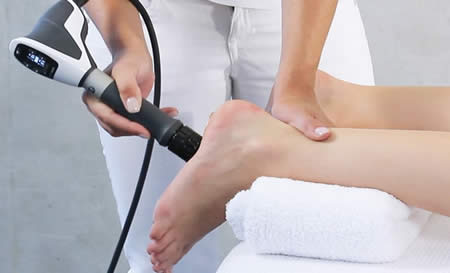 Shockwave therapy, or Extracorporeal Pulse Activation Technology (EPAT), is an effective non-surgical treatment for managing pain caused by a variety of disorders. In podiatry, shockwave therapy can be used to manage painful conditions in the foot and ankle that negatively affect mobility and quality of life.
Shockwave therapy works by generating pulse waves to produce kinetic energy. The kinetic energy is then converted into sound energy before being transmitted into the affected tissue to treat the pain at its source.
Shockwave therapy delivers successful non-surgical treatment to patients seeking convenience, less downtime, and less risk. A session of treatment typically lasts less than 10 minutes and allows patients to quickly return to regular activities.
Benefits:
Non-invasive
No anesthesia required
No risk of infection
No scarring
No downtime
Faster, easier healing
If you are suffering from heel pain, ankle pain, or general foot pain, shockwave therapy may be the solution for you. Please contact our office for more information.