Laser Nail Therapy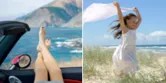 Overview of Noveon Laser
Nomir has developed the Noveon® therapeutic laser device which harnesses the power of optical energy in two distinct wavelength patterns to make the treatments highly successful in killing fungi pathogens.
Noveon Laser Specifications:
A totally new type of laser, non significant risk.
Does not use dangerous UV or ablation.
Does use 2 very specific IR wavelengths that have the unique ability to cause photodamage to microbes at physiologic temperatures that can kill directly or sensitize to antibiotics.
These effects have been used successfully in humans with both MRSA and fungi.
The gentle laser light works through the nail.
Safe
No side effects.
Does not harm the nail or skin.
Painless - no anesthesia needed.
3 treatments at Day 1, 14 and 60
Shoes can be worn immediately after treatment.
Highly effective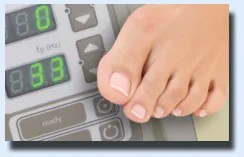 Clinically Validated Results
Nomir has secured a 510(k) clearance from the U.S. Food and Drug Administration (FDA) to utilize the company's Noveon device during contact and non-contact surgical procedures of the skin, subcutaneous tissues and nasal passages in dermatology, plastic surgery, podiatry, and otolaryngology.
Payment Options
We accept MasterCard, Visa, and Discover. We also offer payment plans thru CareCredit with 6 month and 12 month no interest payment plans for balances between $300.00 to $1000.00. For $1000.00 or over balances you can use your CareCredit account with 24, 36, or 48 monthly fixed payments with 14.90%APR. Please click the banner below to apply for CareCredit.